Ski Season Jobs in Japan
Discover information on working a ski season in Japan and browse winter ski jobs in Japan.
View jobs
Japanese Resorts

Japan is fast becoming one of the most popular ski and snowboard destinations on the planet, thanks mainly to its enormous snowfall and reputation for having some of the best powder riding on the planet. With over 500 ski resorts, there is a huge variety of resorts and a plethora of good times for seasonal workers, and consequently more and more people are looking for work each ski season in Japan. Read on to learn about the types of ski jobs in Japan and how to secure one.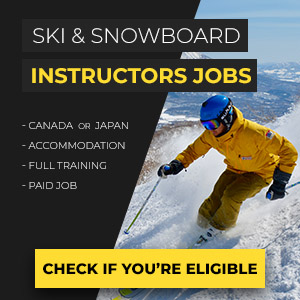 Japan is particularly blessed with powder as cold, dry air travels from Siberia, picking up moisture as it makes its way across the sea, which form heavy clouds that collide with the tall mountains on the west coast of Japan. These conditions create huge snowfall and powder among the best in the world. They also make for a long Japanese snow season, usually lasting from November through to April/May.
Ski Regions in Japan
There are three main ski regions in Japan, two of which are on the main island of Honshu, and one of which is on the northern island of Hokkaido.
Hokkaido has the best riding in the country, although it is colder than other ski regions in Japan. Hokkaido is home to the famous Niseko Mountain Resort Grand Hirafu (the most popular resort in Japan among English speakers, with plenty of employers) and you will also find well-known resorts of Rusutsu, Kiroro and Furano here too. The major resorts on Hakkaido are close to the city of Sapporo.
The region of Tohoku is found in the northeastern part of the main island of Honshu. The prefectures of Yamagata, Iwate, and Aomori are where you will find ski resorts here. While this region is less crowded, it is more difficult to get to and the snowfall is not as good as in Hokkaido.
Still on the main island of Honshu, but further down south closer to Tokyo, are the prefectures of Niigata and Nagano. Niigata is home to Naeba (near the town of Yuzawa), one of the biggest resorts in Japan, while Nagano is home to the major resorts of Hakuba Valley, Shiga Kogen, Nozawa Onsen, Myoko Kogen and Madarao. The Nagano Alps were, incidentally, the site of the '98 Winter Olympic Games.
Hokkaido v Honshu Ski Resorts
It is generally agreed that Hokkaido ski resorts are the place to find the deepest powder, although the Nagano region comes close. The average snowfall at Niseko and Rusutsu is up around 14 – 15 metres each season (45 – 49 feet) while in Nagano it is around 10 – 12 metres (32 – 39 feet). Either way, that is a ton of powder to play with each season.
Despite being close to the coast, the powder at the resorts in Hokkaido is usually also a little drier and fluffier, due to the colder temperatures which leads the snow to drying out somewhat before dumping down on the resorts.
The flip side of all this snow is that Japanese ski resorts tend to not have many sunny days, on both Hokkaido and Honshu. Weather conditions are often overcast due to the snow storms and it can get bitterly cold during mid-season. Generally, Honshu tends to be a little warmer than Hokkaido and has a few more sunny days.
The terrain in Japan is generally not that steep compared to the big mountain riding available in the US, Canada and Europe. Additionally, most resorts are fairly small by North American and European standards in terms of skiable terrain. As a rule, Honshu resorts are a bit steeper than Hokkaido resorts, but this varies of course and there are a few gnarlier trails at some of the less-well known resorts if you keep an eye out.
Japan's drawcard is undoubtedly its huge powder. The feeling of carving through the white birch trees on fresh, ungroomed powder is one that keeps seasonal workers coming back year after year.
Crowds at Japanese Resorts
Despite its high population density, resorts in Japan remain fairly quiet during the week. Sunday – and to an extent, Saturday – are the exceptions, as locals in the major cities take advantage of Japan's high tech rail system for a day trip to the slopes. Consequently, as long as you prepare for the crowds on the weekend, the rest of the week you'll be free to roam around the slopes as you see fit, with very little in the way of lines or crowding.
Costs
While Japan can be very expensive (especially in the big cities such as Tokyo), ski resorts are much more reasonably priced. Lift tickets are generally cheaper than in Europe and North America, and you can find cheap meals if you look – being a seasonal worker you will get to know the best places. This is a good thing, as wages are generally very low at Japanese ski resorts.
Culture
Of course, one of the best aspects of working a season in Japan is the fact that you get to experience amazing Japanese culture in addition to the deep, deep powder. The food is generally awesome in Japan, plus you get the benefit of Japanese cultural activities such as Japanese sauna after a long day working or hitting the powder. This is another big reason why many seasonal workers are choosing Japan over Europe or North America.
Hokkaido has a quieter feel to it as it is further away from the huge population centres, and is generally cheaper than Honshu (apart from Niseko). While Hokkaido is still great to experience Japanese culture while working a season, Honshu is much more central for temple and historical sightseeing, and is easier to immerse yourself in Japanese culture.
How to Get a Working Visa
Japan has a working holiday visa program for citizens of a number of countries/regions including Australia, New Zealand, Canada, the Republic of Korea, France, Germany, the United Kingdom, Ireland, Denmark, Taiwan, Hong Kong and Norway and for residents of Taiwan and Hong Kong.
It is not necessary to have a job offer to get a working holiday visa. Eligibility requirements are that you must be:
aged 18 -30
currently residing in your country of nationality
have proof of funds to maintain your stay and to buy a return plane ticket (this usually means access to around $US 2,000)
not accompanied by dependents
not have a criminal record
be in good health
Working Holiday Visas are available to get one time, but can be extended by up to 18 months. You can apply for, and get more information on, these visas at the Japanese Ministry of Foreign Affairs website.
Certain countries have limitations on the number of visas that can be issued. Australia, New Zealand, Denmark, Germany and Norway have no limit. Other limits are Canada (6,500), the UK (1,000) Republic of Korea (10,000), France (1,500), Ireland (400), Taiwan (5,000), and Hong Kong (25). As such, it is advisable to apply as early as possible in the year. February or March is a good time to start applying.
Finding a Ski Job at a Japanese Ski Resort
Unless you hold a Japanese passport, you are a qualified ski or snowboard instructor, or you go through a company which arranges working holidays, it will be quite difficult to find work as an employee directly of the resort. Most jobs in go to local Japanese.
Instead, you're more likely to find work with companies that provide services aimed at foreigners. Tour operators, rental shops or other similar services are good places to start looking.
There are three main options to look for work at Japanese ski resorts:
(1) apply directly to the resort as a ski or snowboard instructor;
(2) apply for work with a company providing services to foreigners, such as a tour company or local business; or
(3) apply for work through a company arranging working holidays or internships.
As Niseko is the most popular resort for foreigners, the largest number of jobs for non-Japanese speakers can be found here.
Job Resources for Local Businesses
There are a number of sites with job listings each season which may have listings for companies or local businesses providing services to foreigners. The following sites are great for Ski Season Jobs in Japan :
Often the best option is just to email local ski/board rental companies, lodges and bars with your CV. Companies that mostly serve foreigners will not be fazed if you're not fluent in Japanese, for example NISADE in Niseko: (nisekoalpineaccommodation.com).
Instructor Jobs
If you are a qualified instructor, you will be able to apply directly through the resort websites. See individual resort articles for contact details.
International applicants with foreign instructing certificates may wish to contact the central Japanese body dealing with ski and snowboard instructors, Professional Ski Instructors Association of Japan SIA, to convert their foreign instructing certificate or see whether it is recognized in Japan. www.sia-japan.or.jp.
Taiso Bldg. 4th Fl.
1-19-10 Kyobashi, Chuo-ku,
Tokyo 104-0031 JAPAN
Tel : +81(0)3-3567-4770
[email protected]
Tour Operators
Another good option for work is to find a job with a tour operator that provides ski holidays for foreigners at Japanese ski resorts. These companies are often full-service holidays, which means that they provide ski rental, transfers and accommodation to guests – which provides for a wide range of possible employment including housekeeping, front desk, transfers, rental technician and private ski or snowboard instructing.
Ski Japan (www.skijapan.com/Employment/Positions-Vacant) is a major tour company operating at many of the well-know Japanese resorts.
Deep Powder is another company working in a number of Japanese resorts.
Working Holiday and Internship Companies
More recently, however, a number of companies that organise working holidays and internships at ski resorts in Japan have opened up.
These include:
These programs sometimes have a service cost associated with them on top of flights, insurance and visa costs.
BoobooSki is close to free – the only charge is a JPY10,000 (AUD$105) transport fee to cover the cost of picking you up from the airport and taking you to your resort. Both Japan Internships and SAN Consulting are the same, with only a JPY10,000 (AUD$105) orientation fee.
Language Skills
Be aware of the different language requirements for each position. Japanese language skills are generally preferred, but not always required as many of the positions will be targeted at serving foreign clientele only. Any client facing jobs which are interacting with Japanese customers will require Japanese language skills.
Several of the working holiday companies offer Japanese language lessons before arriving. However, this will not be enough to allow you the fluency to undertake a Japanese customer facing role. Rather, this would be for getting around town and ordering basic items.
Pay and Work Hours
Pay is generally quite low for jobs at ski resorts in Japan as well as with the working holidays – often no more than the local minimum wage.
Minimum wage differs by prefecture in Japan. The highest minimum wage is in Tokyo (850 yen per hour – roughly $6.90 USD), while the lowest is in Shimane (652 yen per hour – roughly $5.25 USD).
Of interest to seasonal workers, the minimum wage in Nagano is 700 yen per hour, 719 yen per hour in Hokkaido and 689 yen per hour in Niigata (roughly $5.60 USD per hour). This usually works out to be around 120,000 – 130,000 yen per month ($970 – $1,050 USD).
For BoobooSki and Japan Internships, pay is generally the Japanese minimum wage – 677 – 750 yen. NNi Consulting pays JPY710-750 per hour. Ski Japan pays a little higher, around JPY1,100 per hour which comes to around JPY180,000-220,000 per month (but excludes certain things such as food). SAN Consulting pays around JPY110,000-125,000 a month.
Working hours will depend on the specific job, but it will usually be 40-43 hours, with a 4-6 day work week. Pay is taxed at a rate of 20% for foreigners on a Working Holiday Visa.
While some of these figures may seem low, ski resort jobs in Japan generally include subsidised accommodation, meals and ski passes – making them more reasonable than at first glance. However, as noted above, a working holiday in Japan is not somewhere you're likely to be able to save money, so plan accordingly.
Tax Information
The first tax bracket is 5% and the second is 10%. You will also be required to contribute to the Japanese pension fund which will be 11% of your earnings.
As a seasonal worker, you are likely able to get some of this money back. See Getting Your Tax Back for information on how to claim back your tax.
Finding Accommodation in Japan
Virtually all of the companies with whom you work will help you organise accommodation, either in staff accommodation/dormitories at the resort or in apartments nearby. Often this will be free. Otherwise, you might pay anywhere from a subsided rate of JPY10,000-15,000 per month to a higher rate of JPY20,000-50,000 per month. Finding a place to rent by yourself is exceptionally difficult if you do not speak Japanese. Many landlords will be reluctant to rent to you unless you can speak Japanese.
Travelling Around Japan
Japan is famed for its bullet trains which rapidly transport passengers from hubs in speed and comfort. To get to many of the major resorts, the bullet train (Shinkansen) is often the best option. The bullet train runs from Tokyo to many of the ski regions on Honshu (south island). It is also possible to take the bullet train from Tokyo to Sapporo (the base for most of the ski resorts on the north island of Hokkaido), although many people choose to fly.
In addition, it is often possible to book private transfers from the major cities to the resort areas, and this can be economical if you are travelling with a group.
Also, Japan has a comprehensive bus system which can be used to travel around Japan. This is generally the cheapest, but slowest, option.