Ski Season Work & Jobs in Canada
Discover information on working a ski season in Canada and browse snow season jobs.
View jobs
Canadian Resorts

Canada is best known for its powder, back country riding and the legendary big mountain terrain of the Rocky Mountains. This, combined with some of the warmest locals you could hope to meet, and some of the most serene mountain towns you could hope to encounter, make Canada among the best places to work a winter season. Read on to learn about the resorts and how to get Canada ski jobs.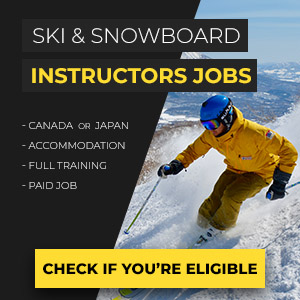 Additionally, for international applicants, finding a job for a winter season in Canada can be easier than in many other countries given the ease of obtaining a working holiday visa. It is therefore a hugely popular place in which to work a winter season among foreigners.
Where to work? Canadian Terrain
The Rocky Mountains
The Rocky Mountains run through British Columbia (BC), the westernmost province of Canada, and the edge of Alberta, the next province to the east. The Rockies are home to the best mountains and the biggest terrain in Canada. Resorts in the Rocky Mountains live up to their epithet through their technical, rocky lines and their incredible rocky chutes. If you are after true Canadian big mountain, the Rockies are the place to be.
In BC, you will find Whistler, which is the largest resort in Canada and one of the most famous resorts in the world, known for its huge terrain and massive nightlife and being home to the 2010 Winter Olympic Games. Other well-known mountains in BC include Kicking Horse, Fernie, Whitewater, Revelstoke, Red Mountain and Big White.
Near the border of BC, in Alberta, you will find the town of Banff, a famous ski town with three resorts in the vicinity, including the popular resorts of Lake Louise and Sunshine Village.
Eastern Mountains
In the eastern part of Canada, the best mountains are found in Québec. However, mountains in Québec are mostly smaller, lower in altitude and receive heavier snow which leads to a bigger emphasis on terrain park riding in the region. Although the resorts are not as big or popular as resorts in the Rockies, they nonetheless attract large crowds from the major eastern Canadian cities of Toronto, Montreal and Québec City.
Midwest Mountains
Throughout the centre of Canada, you will find lower altitude resorts located on the Canadian prairies. These tend to be smaller operations with lower snowfall, and tend to attract local riders rather than international tourists.
Snow & weather
The lightest powder and largest annual snowfall is found in resorts in British Columbia. Conditions in the east are generally much icier, although slightly better than conditions throughout the mid-west.
Due to its high northern latitude, it can get extremely cold in Canada, particularly throughout the Rockies and in Québec. In general, it gets colder at Canadian resorts than at US mountains.
For example, it regularly gets down to -30c (-22f) in December and January in some resorts in British Columbia and Alberta. Some days, it can get too cold to ride, which can cut into your season and lessen the days off work where you are able to ride.
Resort Crowds
One of the distinct advantages of working a Canadian winter season is the lack of crowds. Particularly on the harder terrain, you can often find yourself without another person in sight and with all the powder to yourself.
This is true even at the larger, commercial resorts (outside the holiday periods). As a comparison, the mountains are much quieter than European mountains.
Backcountry Riding and Avalanches
Big mountain riding in Canada, with rocks, cliffs and chutes, is among the best in the world. The best chutes and steeps are to be found through the Rockies.
Back country riding is really popular in Canada, as is hiking and searching for powder stashes. It is more popular in Canada than in the US and Europe and it is part of the culture of many resorts. As a seasonal worker at certain resorts, you may find yourself doing nothing else but hiking to find powder on days off.
Unlike European resorts, but similar to US resorts, Canadian resorts will avalanche prime all terrain within the boundary of the resort. This means that you can safely go off-piste as long as you remain within the resort boundary and keep to runs that have been opened (although avalanches still do rarely occur).
As the season progresses, the avalanche crew will open up more terrain on the mountain. An advantage of working a season in Canada is the chance to ride all the incredible in-bound terrain that will progressively open up during the season.
Out in the back country, it is always advisable to carry avalanche gear given the risk of avalanches that do occur each season.
How to Get a Job at a Canadian Ski Resort
Working Directly for a Mountain Resort
Canadian resort operations are generally centrally run, meaning that you apply through the resort company for all the jobs on the mountain, including lift operations, on-mountain food and beverage, mountain operations, guest services etc. Check out the individual resort pages for further information on application processes.
Canadian resorts allow foreigners to work for the mountain directly, unlike many resorts in other parts of the world where your job options are limited to local businesses in the resort village. You can therefore take a job in lift and mountain operations, guest services and the terrain park crew etc. Generally, you will need a valid working visa before applying, though resorts will sometimes offer sponsored visas for certain specialized roles such as snowboard or ski instructors (see visas below).
Most Canadian resorts do most of their hiring through an online application process prior to the commencement of the season. At the larger resorts, in particular, it is quite difficult to simply turn up at the start of the season and look for a job as they will have filled their rosters prior to the commencement of the season.
However, many seasonal workers quit their Canada ski jobs during the season and resorts are always looking to fill positions as the season progresses. This is particularly so after the January holiday peak, after which many staff decide they have had enough and quit.
Local Businesses in Town
In addition to the resort jobs, often there will also be jobs available in nearby towns in hospitality, retail and other services. Check out the individual resort pages for further information on local job resources.
Local businesses will generally require you to have a valid working visa as they are generally unable to sponsor applicants for visas.
Unlike the resorts, local businesses have no need to advertise jobs online given so many people simply turn up and hand around CVs each season. Instead, local businesses will rely on job advertisements in windows and word-of-mouth. You will need a bit of initiative to hand around your CV and chase up opportunities.
At the more popular ski resort towns (Banff and Whistler in particular), there are many more people looking for work than required. At these more popular resorts, you should arrive early (October / November) and expect a few weeks not getting paid while you look for work.
Aside from the smaller crowds, this is another of the advantages of going to a smaller resort!
Ski and Snowboard Instructors
The central body dealing with ski instructors is the Canadian Ski Instructors Alliance: www.snowpro.com
The central body dealing with snowboard instructors is the Canadian Association of Snowboard instructors: www.casi-acms.com
International applicants with foreign instructing certificates may wish to contact the association to convert their foreign instructing certificate or see whether it is recognized.
Social Insurance Number and Travel Insurance

Canadian resorts and businesses will require you to have a Social Insurance Number (SIN) before commencing work for the season. You can apply for one of these once you arrive in Canada with your work permit. This can generally only be done in major towns so it is necessary to plan a bit of time to do this once you arrive in Canada.
You can apply directly at a Service Canada Centre, located throughout Canada, including Canmore, Calgary, and Vancouver. Many resorts will also require that you have appropriate travel insurance before you start work. This will need to be organised in your home country.
Tax Information
During your season, you will pay both federal and provincial taxes on your income. It is likely around 15% of your pay will go to federal tax and 5-16% on provincial tax, depending on your province. You should be able to claim some of this back at the end of the season.
See Getting Your Tax Back for information on how to claim back tax at the end of the season.
Visas

Working Holiday Visa
Canada has an excellent working holiday visa program available to citizens of a number of countries which makes it much simpler to get a job in Canada than in the US, or in Europe for that matter.
Depending on your country of citizenship, the working holiday visa is open to people aged 18 – 30/35 at the time of application and is generally valid for most work in Canada for a year (two years for some countries).
It is a great program as it means you do not necessarily need a sponsored job in order to get a visa. Rather, you can get your visa, fly over and then start looking for work. Mountain resorts in Canada expect to fill their rosters with foreigners every year, but most will not accept your application unless you already have a working visa.
Applications open in around March and April each year depending on your country. Make sure to keep an eye application opening dates as there are quotas for certain countries which generally fill up extremely quickly (i.e. within hours of opening).
For example, French, UK and Korean quotas, although larger than other countries, have previously filled up within minutes of opening. Australia is currently the only country with an unlimited quota.
Eligible Countries

The working holiday visa program is currently available to passport holders from: Australia, Belgium, Chile, Costa Rica, Croatia, Czech Republic, Denmark, Estonia, France, Germany, Greece, Hong Kong, Ireland, Italy, Japan, South Korea, Latvia, Lithuania, Mexico, The Netherlands, New Zealand, Norway, Poland, Slovakia, Slovenia, Spain, Sweden, Taiwan, Ukraine and the United Kingdom.

Citizens from most countries are eligible for a visa up to 12 months. Citizens of Australia, France, New Zealand, Ireland and the United Kingdom are eligible for a visa up to two years (NZ is 23 months), while Italian citizens are only able to work for six months.
General Requirements
have a valid passport for the duration of your stay in Canada – your work permit cannot be longer than the validity of your passport
be a resident of your home country at the time of applying
be between the age range (depending on your country). For most countries it is 18 – 35, except Australia, Korea, Hong Kong, Japan and The Netherlands for whom it is 18 – 30 (Mexico is 18 – 29).
have the equivalent of C$2,500 available for expenses and health insurance (you many have to present evidence of these funds and insurance when entering Canada)
not have a record which precludes you from entering Canada
have, prior to departure, a round-trip ticket or the financial resources to purchase a departure ticket for the end of your authorized stay in Canada
not be accompanied by dependents
pay the fees
Australians, New Zealanders and British

For Australians, you need to be between the ages of 18 – 30 and are eligible for a two-year working visa. New Zealanders must be between 18 – 35 and are eligible for a 23 month visa. UK citizens must be between 18 – 35 and are eligible for a two-year visa.
General Requirements for your country can be found at www.cic.gc.ca/english/work/iec/ by selecting your country.
How to Apply
Fortunately, the process to apply is extremely simple and quick, particularly if you have your documentation ready and scanned.
To apply, you go to www.cic.gc.ca/english/work/iec/ and select your country, then click through under 'apply'. Once you do so, you will need to register with the online application system 'Kompass' after which you will then receive an email with your account number. Using that number, you log into Kompass and complete the required steps. You will need to provide scanned copies of relevant documentation.
If you are accepted at the first stage (most people are depending on the quotas), you will then need to create a MyCIC account which is where you make the application for the working holiday visa. You will need to submit any requirement documentation and pay the fee, which is currently $CAN 150.
Sponsored Visas
If you are not able to get a working holiday visa, you may also be able to get sponsored working visa directly through a resort. This would generally open be open to specialized roles such as grooming operations, instructors or ski patrol. You will need to contact the resort directly to see if such a visa is possible.
Canada also has additional working visas under the young professionals or international Co-op (internship) visas for a number of countries. These visas require you to have a signed letter of contract for a work placement generally in your field of study. This is an option for Austrian and Swiss citizens for whom the working holiday visa is not available.
Job Programs for International Applicants
In addition to getting a visa and finding work yourself, you could use a job program. There are a number of companies which partner with ski resorts in Canada to get you a job at the mountain. These programs fly human resource representatives from the resort out to your country and arrange an interview, which pretty much guarantees you a job before you arrive.
The advantage of paying for a job program is that you walk straight into your job once you arrive, while others spend a few weeks looking for work and, in the meantime, spend the same amount as you would have using a program. Additionally, some resorts will guarantee program participants staff housing.
The disadvantage of a job program is the cost. Also, while you can nominate for the job you would like, you may not necessarily get it. Additionally, some programs only guarantee a job interview, and not an actual job.
The job programs are good if you are not sure about looking for work by yourself, you want the security of a job and the certainty of how much you will spend. On the other hand, there are always a number of people who simply arrive in the country each year and hand out resumes, taking the risk of finding a job quickly and having a bit more flexibility with the jobs they apply for.
Two of the major recognized job programs by the Canadian Government are 'SWAP Working Holidays' and 'Go International'. SWAP partners with companies in each of the eligible working holiday visa countries. You can see the list of partner organizations through their website.
Australians, New Zealanders and British
We Are Sno provide ski instructor internships for certification in Canada. You get resort accommodation, full instructor training, paid instructor jobs and a season lift pass.
For British Citizens, Bunac (www.bunac.org/) is a job program which you could use. Bunac is a partner of SWAP. This costs £599 GBP.
For Australian, New Zealand and British citizens, The Working Holiday Club is another program which partners with resorts such as Whistler, Lake Louise, Panorama, Kicking Horse, Big White, Silver Star, Grouse Mountain, Sunshine, Nakiska and Calaboogie Peaks. The cost is $1,199. This includes a job placement as well as staff accommodation.
Living in Canadian Ski Resorts
How to Find Accommodation for the Winter Season
Many resorts will offer staff accommodation for those working at the mountain for the season. Check out each resort page for further information on whether staff accommodation is available, what it comprises and the cost of rent.
If staff accommodation is not available, or if you would like to find your own place, there are a few Canada wide rental sites that may provide good places to start your search:
kijiji.ca is a Canadian classifieds site with ads for many items, including rental properties.
www.craigslist.org/about/sites#CA is the Canadian section of Craiglist which allows people to post ads on any number of things, including properties for rent.
classifieds.nationalpost.com is a national news service which also has a classifieds section.
Many resort towns also have local papers and local sites where rental properties may be listed. Check out the individual resort pages for further information.
Travelling Into and Around Canada
The major international airports in Canada include Toronto (Ontario), Vancouver (British Columbia), Calgary (Alberta) and Montreal (Québec).The Greyhound.ca bus service is the most extensive bus service in Canada. It runs to most major resorts and towns and is quite a good, efficient service compared to bus services in other countries. In particular, the Greyhound is a good option if flying into any of the major international airports in Canada and looking to move onwards to your resort from there.
However, it is quite handy to have a car if you are working a season in Canada. This allows you to visit other resorts on your days off more easily and, at some of the more isolated ski resort towns, to get to the shops more easily. Resort towns are often expensive while cheaper groceries can be found in nearby towns but you may need a car to get there.
Also, many of the resorts in Canada are located next to highways, meaning that it can be reasonably easy to move around the resorts in Canada if you wish to do a road trip
Both Craigslist or Kijiji are good places to start looking for a car, although talking to people in town is an equally good way to find a car once you are there.