Work A Ski Season at Cascade Mountain
Discover information on working a ski season at Cascade Mountain and browse winter jobs.
Cascade Mountain
USA
Other US Resorts

Located about 5 miles from Portage, Wisconsin, 30 minutes from Madison, 20 minutes from the town of Wisconsin Dells (a major tourist attraction in Wisconsin), 90 minutes from Milwaukee and 3 hours from Chicago, Cascade Mountain attracts a high number of locals as well as people from the neighboring state of Illinois.
It is located right on Interstates 90 and 94 which make for easy access to the area. Cascade Mountain has been open since January 13, 1962, when it was one of the first ski areas in the region.
The Terrain at Cascade Mountain
All the slopes are tree lined, giving the area an alpine feel. There are a total of 47 trails (including two more intermediate trails for 2018/19) and 12 lifts, including 2 high speed detachable quads. There is also a large tubing park – Tube Town – which needs additional employees each season.
Mountain Statistics
Vertical Drop – 460 feet
Top Elevation – 1,280 feet
Base Elevation – 820 feet
Skiable Acres – 175
Trails – 47 (26 lighted)
Parks – 4 (all lighted)
Lifts – 12 including a Magic Carpet in the beginner area
Longest Run – 5,300 feet
Average Snowfall – 50 inches – 55 inches and 100% snowmaking covered
Most Midwestern winter sports areas have to use man-made snow to keep the trails covered with any exceptions being perhaps some of the ones in the very northern parts of the states.
There are over 500 snow guns at Cascade making it the Midwest's largest snowmaking system – 37 more added in 2017. This allows the hill to take advantage of very small windows of cold temperatures and generate a ton of snow. Grooming is a big feature of Cascade Mountain and the grooming fleet is one of the largest in the Midwest. Most of the runs on the hill are groomed which provides for some nice cruising terrain.
Some of the best runs at Cascade are: Adele's Alley (including upper Adele's too), Far Out, Boarderland, Manitou and the parks. Adele's and Far Out are great for beginners after they are able to manage a chairlift because they are both about a mile or little better in length and yet are nice easier trails.
Check out the new trails added to the East. They are accessible from B-Dub, the high speed detachable quad added in 2016 as part of the $9 million expansion plan. There is no backcountry or glade at Cascade, but with the new trails you sometimes don't feel like you are in the Midwest.
Tyrol Basin is nearby to check out over the season as another resort.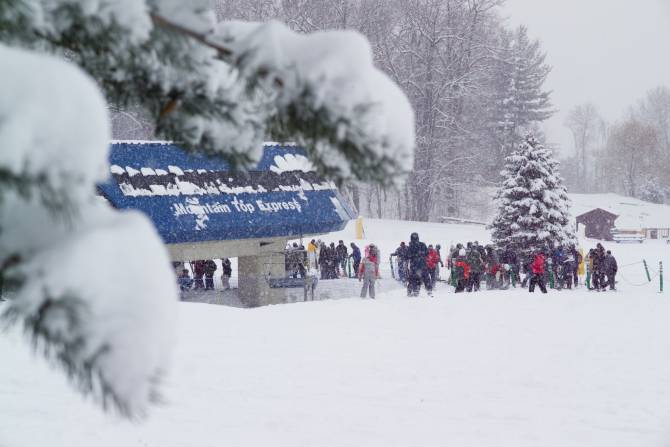 Getting a Job at Cascade Mountain
Cascade Mountain has an average seasonal staff of 350 full and part time employees. Several thousand guests come through on busy days. Positions include: cook, cashier, counter attendant, bartender, barista; janitorial, ticket seller, office staff, group sales, Sports Shop sales clerk, rental attendant, lift attendant/operator, guest services staff, snowmaker, terrain park staff, ski and snowboard instructors and Cascade Kids instructors.
See Jobs Available at Mountain Resorts for further information on ski resort jobs.
Minors (ages 14 – 17) must obtain a Wisconsin Work Permit prior to beginning work.
The Annual Job Fair is held in October each year and is a good way to find work at the mountain. Orientation is held in November prior to opening and attendance is mandatory. Most base pay is $8.25, above the current minimum wage in Wisconsin which is $7.25 an hour.
Jobs are usually posted by the end of August or shortly after Labor day. About half of the staff return to work each year. Most of the hiring is done prior to early November. Cascade may hire some new employees after it opens for the season. Make your job application online at www.cascademountain.com.
Job Fair
The Job Fair is traditionally towards the end of October. People who have put in an application a week or so prior to the Job Fair will be able to interview for the position they are interested in and potentially get hired at that time.
By the end of the Job Fair a good portion of the hiring is done, especially for positions which involve a minor. Snowmaking, Lifts and Instructors are the three areas that very often still need to hire more staff. Food Service and Janitorial often do some more hiring after the Job Fair as well.
Instructors
There is New Instructor Training required for non-certified instructors; usually held the first two weekends in December. This means you are able to apply for a job as an instructor without already holding your instructing certificate and, if you complete the training, you are eligible to be hired.
International Applicants
Cascade hires international applicants on a J-1 visa through the Summer Work Travel Program. See Work a Snow Season in the USA for further information on getting a J-1 visa and finding a sponsor under this program.
Cascade uses Intrax to hire most first time students. The program is mostly open to students from Central and South America.
Cascasde does not hire anyone on an H2B visa.
Staff Perks
Season pass at a cost of $5 (plus tax)
Use of rental equipment at no cost
Free ski and board lessons
Food discounts
Sports Shop discounts
The opportunity to work alongside some pretty awesome co-workers
Season Dates
The season dates are always tentative depending upon weather conditions and snowmaking. Cascade tries to open by the day after Thanksgiving even if just for the weekend, and to be open for the season by the first weekend in December. Traditionally, Cascade closes on the third Sunday in March.
The season is a little shorter than mountains further to the north in Wisconsin as the temperatures are a little warmer in the south, where Cascade is located.
Where to Live for the Season
Most employees live within the local area (50 mile radius) or are at an easy driving distance. Some employees, mostly instructors, live in more distant cities such as Milwaukee or Chicago and work primarily on weekends and holidays.
There is not much housing available in Portage for short term residents. Housing is a problem for those who do not live in the area and do not have a car. Some staff get rides with friends or family to work.
The local taxi cab company does provide rides to and from the city of Portage to Cascade Mountain. The fare directly from the city to Cascade Mountain is $3.75 per person no matter how many are sharing the cab. If an employee has a car and driver's license, they may be able to find housing in Wisconsin Dells where they can pay by the week or month.
The Portage Chamber of Commerce has listings with motels that may do rentals by the week including: Sunset Motel, Shady Lawn and Cattail Lodge. There may also be some apartment complexes that rent by the month.
There is an old hotel downtown called "The Historic" that also rents rooms for a longer term. Silver Lake Apartments has short term rentals They have a minimum 3 month lease. Rent in Portage can be found from around $600 for a 2 bedroom/1 bath apartment. Rent in Portage can be found from around $600 for a 2 bedroom/1 bath apartment.
The Portage newspaper is the Portage Daily Register and here will be some listings for apartments, however not a lot and probably not for just 4 months or so.
In the Dells there will be more rooms and such to rent on a weekly or short term basis because there are so many seasonal employees in the summer. There is no public transportation from the Dells and cabs tend to be quite expensive unless they are shared by several people. The Dells Chamber of Commerce may be able to provide further information. 800-23-3557
Practical Living
To get furniture you could go to Goodwill or St. Vincent de Paul to pick up a couple other items.
Outside of Work
Portage, the nearest city, is a typical Midwestern town with a population around 10,500 residents. There are restaurants and bars with some of them offering weekend entertainment. There are a couple of museums, a multiplex movie theater, an ice skating pond (weather permitting), and locally produced plays, concerts and the like.
Around the holiday season there are events in the city designed to attract people to the downtown area with things like the tree lighting and holiday parade, Santa Claus fly-in arrival at the Portage airport, Santa's reindeer, living windows and cookies.
Madison and Wisconsin Dells both offer more nightlife. With the University of Wisconsin's main campus being located in Madison there is a lot of nightlife and student activity. There is limited public transportation to Madison and back. The Dells of Wisconsin take their name from the beautiful, glacially formed gorge with sandstone formations along the Wisconsin River. They are certainly worthwhile checking out over the course of the season.